X-Bow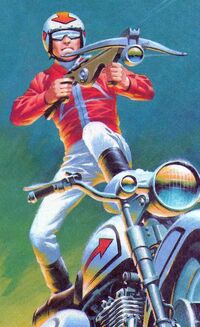 Base of operations
Mobile
Characteristics
Status
History
X-Bow was a crusading vigilante, presumably of independent means, although nothing about his personal life or true identity was ever revealed. He rode around the British Isles (and later, briefly, America) on a high-powered motorcycle, dispensing justice with the aid of a customised crossbow (presumably his own invention) which fired a variety of tricked-up bolts including ones containing stun and gas capsules, signal flares, homing devices, bugging microphones, grappling hooks (which he could use to haul himself up) and double bolts which could release a net over a fleeing quarry. He also later obtained a shield made of a special bulletproof alloy, though where he got it is unclear.

Powers and abilities
Abilities
Riding a motorcycle, firing a crossbow and carrying a shield at the same time.
Strength level
Human male who gets regular exercise (dispensing vigilante 'justice').

Paraphernalia
Equipment
Bulletproof shield; motorcycle helmet; goggles.
Transportation
Motorcycle.
Weapons
Crossbow.
Links
Discover and Discuss
Community content is available under
CC-BY-SA
unless otherwise noted.