Wolverine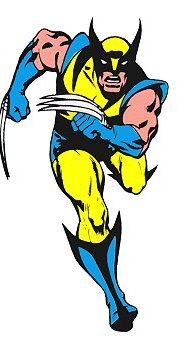 Aliases
Logan; Patch; Weapon X
Characteristics
Status
History
James Howlett, also known as Logan, but better known as Wolverine, is a Canadian mutant superhero once used as an agent by the sinister Weapon X project, and a member in long standing of the heroic X-Men. He has also been a member of the Avengers.
Created by Marvel Comics, he has featured in a number of British reprint titles, with and without the rest of his teammates, including the Wolverine Annuals. He also featured in a UK originated six page story first printed in Marvel Comic Vol 1 335. in which he teamed up with Hercules.

Powers and abilities
Powers
Rapid healing, often to a truly ridiculous degree (this also greatly retards his ageing processes; Wolverine is over a hundred years old, but only looks about forty).
Abilities
Being the best there is at what he does
Strength level
Superhuman

Paraphernalia
Weapons
Claws

Notes
The first appearance given is his first appearance in a strip first seen in the UK. His first US appearance was in The Incredible Hulk## #180.

Trivia
Wolverine's skeleton is laced with the indestructible metal Adamantium.
The Marvel UK character Wild Thing was apparently Wolverine's granddaughter.
His amazing regenerative abilities have the side effect of instantly negating the effects of alcohol. So he can't get drunk. Poor sod.
Links
Discover and Discuss
Community content is available under
CC-BY-SA
unless otherwise noted.