William Blood Moon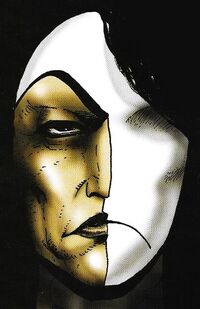 Real name
William Blood Moon
Aliases
Colonel Moon; Bloody Billy
Base of operations
Mobile
Characteristics
Unusual features
Mask over half his face
Status
Origin
Origin
Mutated by strontium-90
History
William Blood Moon is a character from the 2000 AD strip Strontium Dog. He was a fanatical colonel in the mutant army during New Britain's first mutant war, who believed that mutants were a superior type of human who would inherit the world from the norms. Moon therefore thought that the indiscriminate slaughter of norms was morally justifiable, in order to clear the decks for the next stage of human evolution. He frequently attacked civilian targets and persuaded his ardent disciples to become suicide bombers.
One of Moon's victims was Mardi, a young woman so devoted to him that she blew herself up at a Kreeler Youth rally near Winchester Cathedral. (Mardi claimed to have an 'anti-authoritarian' mutant gene, but Moon said that she was merely a norm wannabe or 'newtant' — "some norms are just kinky that way" — and so he was justified in using her because she was the enemy.) Mardi's death shocked the young Johnny Alpha, on secondment to Moon's forces at the time, and he tried to kill Moon. The colonel had him beaten severely and then let him go, because he needed the support of Johnny's commander, General Armz.
Moon's hide-out was destroyed by the norms, but terrorist attacks carried out in his name continued, leading to rumours that he was still alive. Years later Johnny Alpha, now a Strontium Dog, tracked him to his lair in the mutant colony world of Freedonia, where he had been living in a cave and nursing his injuries. Johnny was aided in his search by the journalist Precious Matson and the Strontium Dogs Middenface McNulty, Evans the Fist, The Torso from Newcastle and Blubberlips. Trying to stop him from finding Moon was a Stix Brother called Lupus, an unscrupulous Strontium Dog whom Moon had hired.
When Johnny finally found Moon he used a time bomb to take both of them back to the scene of Mardi's suicide bombing, to see if Moon would show any remorse. He didn't, so Johnny killed him and returned to Freedonia. Moon's body was never identified.

Powers and abilities
Abilities
Leadership skills; charismatic demagogue.
Strength level
(Formerly) human male who gets regular exercise; (latterly) ageing and injured human male.
Weaknesses
Underestimates Johnny Alpha.

Paraphernalia
Equipment
(Latterly) walking stick.
Transportation
Hover vehicles.
Weapons
Prefers to persuade other people to use them in his name.

Notes
It isn't clear whether Moon's mutation is concealed by the porcelain mask covering his forehead and half his face, or whether the china-like material is his mutation.
Links
Appearances of William Blood Moon

Fan-Art Gallery: William Blood Moon
Discover and Discuss