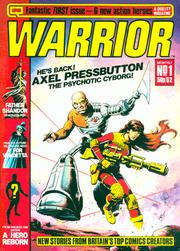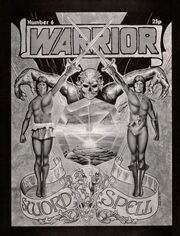 Warrior was published by Quality Communications from March 1982 to January 1985, running 26 issues in total. The brainchild of Dez Skinn, Warrior featured an eclectic mix of strips including the revamped fifties superhero Marvelman (by Alan Moore, Garry Leach and latterly Alan Davis) V for Vendetta by Alan Moore and David Lloyd, Laser Eraser and Pressbutton by Steve Moore and Steve Dillon, the supernatural adventure series Father Shandor, Demon Stalker by Steve Moore and John Bolton, The Spiral Path by Steve Parkhouse and John Bolton, Madman by Paul Neary and Mick Austin, and Dez Skinn and Will Simpson's Big Ben, The Man With No Time for Crime (one episode of which was inked by David Hine).  Later issues included stories such as The Bojeffries Saga by Alan Moore and Steve Parkhouse, The Twilight World by Steve Moore and Jim Baikie, Ektryn by Steve Moore (as "Pedro Henry") and Cam Kennedy, and The Liberators by Grant Morrison and John Ridgway. David Jackson also contributed to The Spiral Path and Father Shandor, and Steve Moore wrote Zirk, drawn by Brian Bolland. Following the title's cancellation in 1985 (the book having been beset for some time by creative disagreements and a threat of legal action over the use of Marvelman by Marvel UK) , a one-off Warrior Spring Special which was effectively issue #27 was given away free with Comics International #67 in April 1996.
A Marvelman Special was published in 1984 as a spin-off title; it featured reprints of 1950s/60s Marvelman stories, plus Big Ben, The Man With No Time for Crime.
There was an earlier, all reprint series also called Warrior, also published by Skinn. Presumably, he just really liked the title.
Several Warrior series' were later licensed and reprinted in the United States by Eclipse Comics.
See Warrior Vol 1 for individual issues.
Community content is available under
CC-BY-SA
unless otherwise noted.