Warpies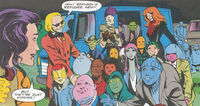 Aliases
Raphael's Refugee Army; Warp Children; Children of the Warp
Characteristics
Unusual features
Variable
Origin
History
Warpies are characters from the Marvel UK strip Captain Britain. They were a group of children who were accidentally mutated by the after-effects of the reality warp created by Mad Jim Jaspers and gifted with paranormal abilities that were strange and frightening to them. Agents from the R.C.X. (Resources Control Executive) brought them to Braddock Manor, the ancestral seat of Brian Braddock (alias Captain Britain) and his sister Betsy. At first Brian wanted nothing to do with the Warpies. His attitude seemed justified when a small team of them who had been trained to fight, known as the Cherubim, attacked Brian after being released from their van by Brian's friend Meggan, who had felt sorry for them. However, Betsy's parental instincts kicked in and she insisted that the Warpies remain at the manor (apart from the 'Cherub Whirlwind', five members of the Cherubim whom Meggan had accidentally killed in the fracas).
Links
Discover and Discuss
Community content is available under
CC-BY-SA
unless otherwise noted.