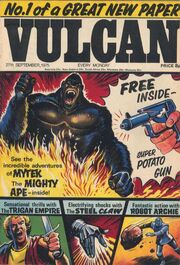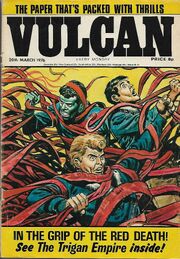 Vulcan was a weekly title launched by Fleetway in Scotland on 1st March 1975 for a trial run lasting 30 issues until 20th September, and then across the UK on 27th September the same year, continuing for a further 28 issues until 3rd April 1976 before being cancelled and merged with Valiant. Something of an oddity for a British comic at the time, it was the same size as an American import and was printed on high quality paper (albeit in black and white). It was created specifically to showcase reprints of adventure strips from Lion and Valiant first published several years earlier, and featured amongst others Mytek the Mighty, The Spider, Kelly's Eye, Saber, King of the Jungle, Robot Archie, Billy's Boots, The House of Dolmann, The Trigan Empire, Raven on the Wing and The Steel Claw. A Vulcan Holiday Special was published in June 1976 and a Vulcan Annual was published in late 1976 dated 1977. Three issues of a Vulcan Mini-Comic were also published in Valiant on 10th-24th April 1976.
Strips reprinted in Vulcan
Community content is available under
CC-BY-SA
unless otherwise noted.