Viktor Romanov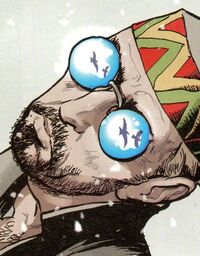 Affiliation
Ally of Nikolai Dante
Base of operations
Russia
Characteristics
Unusual features
Birdlike eyes
Status
Origin
History
Viktor is one of the Romanov siblings, the children of Dmitri Romanov, would-be ruler of a Russian Empire in the far future. Like his siblings, the brooding loner Viktor is bonded to an alien techno-organic 'Weapons Crest', which in his case gives him the ability to transform into a creature rather like a giant bird of prey.
Never comfortable around people, Viktor stood apart from his family until he met his half-brother Nikolai Dante, for whom he developed genuine affection. Seemingly killed in the final battle between the Romanov and Makarov dynasties, Viktor survived and was nursed back to health by a peasant woman whom he married, eventually coming out of his self-imposed exile to aid his little brother against their father, Dmitri.
Viktor's wife was murdered at Dmitri's command, after which, following Dmitri's defeat, he began to withdraw from humanity. Nikolai asked him to be best man at his wedding, and Viktor seemed genuinely touched, but then flew off in his changed form, leaving his brother with just the words "Goodbye, Nikolai" — possibly the first words Viktor had ever spoken.

Paraphernalia
Weapons
Weapons Crest.

Notes
Viktor Romanov appeared to be mute for most of his life, but ultimately proved not to be.
Links
Discover and Discuss
Community content is available under
CC-BY-SA
unless otherwise noted.