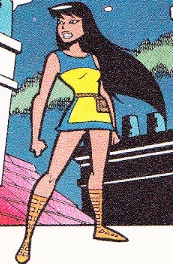 Valda is one of the most memorable and celebrated girl characters from
D.C. Thomson
's stable of girls' comics, kicking off in 1968 in
Mandy
#56.
Valda recounted the fantasy tales of the orphan girl of the same name, who inherits mysterious powers after bathing in a mysterious pool of light: a mythic pendant she wears also hold the secrets to eternal youth. (Some people have all the luck.) Original artist Dudley Wynn created a real sense of wonder and otherwordiness in the very early extended tales, which usually centred around mystic, lost worlds, and alienated tribespeople. Valda was a raven-haired beauty who encountered many strange sights and beings on her travels: her ethereal powers also grant her the ability to be a super-athlete when the need arose.
Fantastic sense of eerie 'otherworlds' and fantasy scenarios, coupled with the beautifully-rendered frames of Valda herself, ensure that Valda is a valid entry in the quality girls' comics stakes.
Notes
A full-colour tale recounting Valda's ethereal impact on a tennis match provided a contemporary setting (by 1970 standards!) in a short story in the 1971 Mandy book.
Valda featured in three issues of the reprint title Lucky Charm between 1979 and 1983.
A much later Mandy annual from 2002 introduced a radical revamp of Valda's design, more along that of an updated 'TV cartoon' style. Artwork was reminiscent of that of Jimmy Hansen.
Special thanks to Steelclaw, Tonibunny, Lew Stringer and Phil Rushton for supplying these sterling visuals/snippets of info. Thanks a bundle!
Gallery
Community content is available under
CC-BY-SA
unless otherwise noted.