Tony Ingram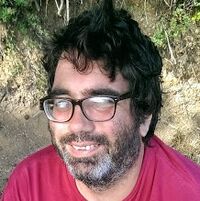 Current alias
Tony Ingram
Relatives
yes, unfortunately
Base of operations
Suffolk
Characteristics
Status
Education
Largely a failure
Origin
Origin
One drink too many
Place of birth
Bromley, Kent, England
First appearance
Didn't make much of an impression
History
Tony Ingram was created in a drunken accident in 1969. He spent much of his early life shut in his room reading comics. Nothing much has changed except that the room now contains a lot more comics and is in a different county. He self published the fanzine Comics Retrospective and was a regular contributor to the apazine Rainbow Bridge and also a contributor to, and later co-editor of, Crikey!

Powers and abilities
Powers
Can get on people's nerves to a superhuman degree
Abilities
able to consume large quantities of beer and still stay awake during a 12 hour Doctor Who marathon.
Strength level
Normal human who takes minimal regular exercise
Weaknesses
Wine, women and Indian food

Paraphernalia
Equipment
Toy Sonic Screwdriver
Transportation
Feet (two)
Weapons
Action Man Scorpion tank

Trivia
Tony keeps rabbits, is active in local Government, and was once knocked down by a milk float.
Links
Appearances of Tony ingram

Fan-Art Gallery: Tony ingram

Tony ingram quotations
Discover and Discuss