Tyranny Rex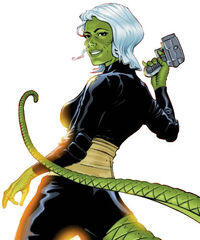 Base of operations
Mobile
Characteristics
Unusual features
Prehensile tail
Status
Origin
Origin
Normal Sauron birth/hatching
History
Tyranny Rex is the star of her own strip in 2000 AD. She is the last of the Saurons, a race of reptilian humanoids apparently wiped out by a series of massacres. Tyranny was originally a genethief, stealing DNA from celebrities in order to make clones of them for rich collectors. Later, she became an artist, a freelance adventurer, and eventually (at least for seven years) a nun. She clashed on occasion with Fervent and Lobe, two operatives of the covert organisation Indigo Prime.

Powers and abilities
Strength level
Sauron female who gets regular exercise.

Paraphernalia
Equipment
Implant in the back of her neck which allows her to interface directly with any computer system.

Notes
Tyranny appeared intermittently in 2000 AD between 1988 and 1994, before making a brief return in 2004. The Tyranny Rex stories were often criticised for being too convoluted and confusing, and when the story 'Soft Bodies' (drawn by Will Simpson) concluded, a reader wrote in to the comics letters page asking, "What was Tyranny Rex all about?" Alien editor Tharg replied, "It was about 28 pages."

Trivia
Tyranny did not originally have green skin, and the reason for the change does not appear to have been explained. (Maybe she hit puberty.)
Tyrannny's eyes are Zeiss-ranger implants (see prog 566).
Links
Fan-Art Gallery: Tyranny Rex
Discover and Discuss