Treens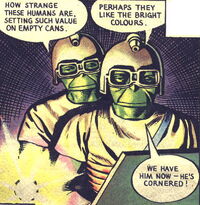 Characteristics
Origin
History
The Treens are a race of green-skinned aliens apparently native to northern Venus. They are for the most part a militaristic race of would-be conquerors ruled by the
Mekon
, a genetically engineered genius. The Treens have on occasion deposed the Mekon and been ruled by more democratically minded members of their race, or been deprived of his leadership for extended periods, and according to one account spent decades as simple, peaceful farmers before their aggressive ruler returned, but they invariably go back to their warlike ways in the end.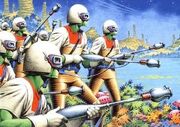 The southern hemisphere of Venus (separated from the Treens' territories by the Flamelands around the equator) is occupied by the Treens' hereditary enemies, the advanced and moralistic Therons, who once briefly tried to occupy and civilize them but failed miserably.

Notes
The capital city of the Treens is called Mekonta.
Links
Discover and Discuss
Community content is available under
CC-BY-SA
unless otherwise noted.