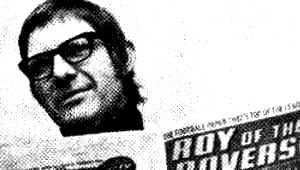 Tom Tully, who died in 2013, was a British comics writer who was born in Glasgow. He was the longest-running writer of 
Roy of the Rovers
. According to comics historian Steve Holland, Tully was "arguably the best comic-strip writer of the 1960s," as "the level of invention in Tully's writing was astonishing and the characters he helped to create were among the most memorable" (
Judge Dredd Megazine
#386). His oeuvre (some of it) is as follows:
For Valiant he wrote The Steel Claw, Mytek the Mighty, Kelly's Eye, Raven on the Wing, The Wild Wonders, Janus Stark and Adam Eterno.
For Knockout he wrote Kelly's Eye.
For Tiger he wrote Roy of the Rovers, Nipper (about a young footballer) and Football Family Robinson.
For Smash! he wrote Master of the Marsh and Janus Stark.
For Battle Picture Weekly he wrote The Team that Went to War, Operation Shark and Johnny Red.
For Jet he wrote Von Hoffman's Invasion.
For Action he wrote Death Game 1999, Look Out for Lefty!, Spinball and The Spinball Slaves.
For Buster he wrote The Leopard from Lime Street.
For 2000 AD he wrote Harlem Heroes, Inferno, Dan Dare, The Mind of Wolfie Smith and Mean Arena.
For Scream! he wrote The Nightcomers.
For Boy's World he wrote Pike Mason.
Community content is available under
CC-BY-SA
unless otherwise noted.