Thrill-Suckers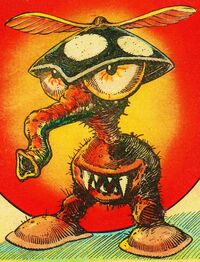 Characteristics
Unusual features
Long prehensile proboscis used to suck thrills
Status
Occupation
Thrill-Suckers
History
Thrill-suckers are a parasitic race of psychic alien bugs which swarm and attempt to feed on 'Thrillpower', the almost incalculable energy generated by reading 2000 AD, the galaxy's greatest comic. They have menaced Earth on numerous occasions, attempting to suck the Thrillpower from hapless Earthlets' minds and leave them apathetic shells of their former selves, but have always been beaten back by the peerless power of the Mighty Tharg.
The Bumper Book of Parasites: Volume 8, cited in 2000 AD prog 198, describes 'the Lesser-Spotted Thrill-Sucker' as follows: "A highly dangerous microscopic form of life which drains energy and causes the condition known as THRILL-STARVATION. Has been known to lay low entire civilisations for thousands of years. Highly contagious."
The book is also cited in prog 308, describing the 'Greater-Spotted Thrill-Sucker', native to the planet Zrag: "It differs from the Lesser-Spotted in the ferocity of its attacks and the high degree of parasitic cunning it displays." This variety tends to sound a bit... Nazi (see quotes).
In 2000 BC the Dictators of Zrag unleashed a plague of thrill-suckers in the advanced prehistoric civilization of Atlantis, causing its destruction: the operators of Weather Control could see that the weather was getting catastrophically bad, but couldn't be bothered to do anything about it. The city drowned.

Powers and abilities
Powers
Thrill-sucking.
Weaknesses
Can overload on Thrillpower.

Paraphernalia
Transportation
They can fly.

Notes
Thrill-suckers appeared in the gaps between the panels in the episode of Strontium Dogs published in 2000 AD prog 998, drawn by Trevor Hairsine.
Links
Discover and Discuss