The Thing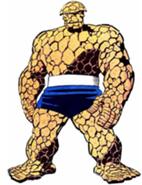 Real name
Benjamin Jacob Grimm
Relatives
Alicia Masters (wife); Aunt Petunia (aunt); Jacob "Jake" Grimm (uncle); Philip Masters (father-in-law)
Characteristics
Status
Origin
History
In his youth, Ben Grimm was at college with Reed Richards, who would go on to become something of a scientific miracle worker, and the two remained friends for years. Needing a pilot for a totally illegal experimental space flight he intended to take along with his girlfriend Sue Storm and her kid brother Johnny, Richards recruited Ben, who had in the meantime become a military test pilot. Ben attempted to warn Richards of the foolishness of the scheme (and in particular of the dangers of subjecting themselves to cosmic rays without adequate shielding) but was overruled on the grounds that he was just a big, thick lummox while Reed was a genius. Predictably, the rocket was bombarded with cosmic rays and subsequently crashed, and the heavily irradiated crew all developed super powers...though in Ben's case, at the cost of being permanently transformed into a hideous, rocky orange skinned monstrosity. Understandably perturbed by this, Ben attacked Reed, but was calmed down and persuaded to become a part of his "friend"'s next brilliant idea, superhero team the Fantastic Four. Ben has since come to terms with his condition and found love with blind sculptress Alicia Masters, who could see his inner beauty (allegedly) and not his outer ugliness.

Powers and abilities
Powers
He's incredibly strong.
Abilities
Being incredibly strong.
Strength level
Incredibly strong.
Weaknesses
Gets a bit self-conscious about being hideous.

Paraphernalia
Equipment
Trunks made out of unstable molecules,
Transportation
Fantasticar

Notes
The Fantastic Four are American characters but have appeared in both reprints and the odd UK originated story from a number of British publishers including Marvel UK, Panini, World Distributors and Odhams. The Thing once had his own British reprint weekly, The Thing is Big Ben.
Links
Discover and Discuss
Community content is available under
CC-BY-SA
unless otherwise noted.