This page contains a list of all the comics included in The Super-Heroes (Marvel UK) Vol 1: .
If you have found something that is not seen on this page, please add it to this list.
(This template will categorize articles that include it into Category:Comic Lists.)
---
Back to title selection : Comics S : The Super-Heroes (Marvel UK) Vol 1
---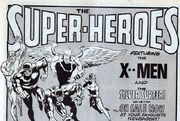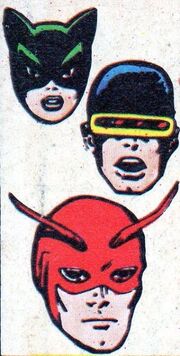 The Super-Heroes was a weekly comic launched by
Marvel UK
on 8th March 1975, initially featuring reprints of American Silver Surfer and
X-Men
strips (issue #1 also included a free Silver Surfer poster). When the initial batch of Silver Surfer reprints ran out, they were replaced by The Cat (from issue #30), and from #23 Marvel's version of Doc Savage (a licenced character) also began to appear, while later issues included
Giant Man
, The Scarecrow (from the American title 'Dead of Night'),
The Thing
(from 'Marvel Two-In-One'), Bloodstone and, from #49, the
Black Knight
. The title was cancelled following issue #50 (14th February 1976) and merged with '
Spider-Man Comics Weekly
, which changed its title to
Super Spider-Man with the Super-Heroes
for a time. A
Super-Heroes Annual
was published in 1978, featuring
Thor
,
Spider-Man
and the Silver Surfer, and another the following year starring Thor, Silver Surfer and Sub-Mariner.
Gallery
See Also:

---
Back to title selection : Comics S : The Super-Heroes (Marvel UK) Vol 1
---
Community content is available under
CC-BY-SA
unless otherwise noted.