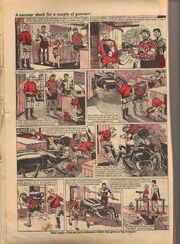 The Island of Monsters
 was a ripping yarn that featured in issues 1451 to 1493 of the
Dandy
(numbers dated Sep 13th 1969 to July 4th 1970).
Expertly rendered by Paddy Brennan this captivating and very memorable tale was set on the uncharted island of Takaroko and followed the exploits of young Davie Dunbar and his friendly native sidekick Krambo. They are the only humans left on the island, and Davie's dad's fortified store is left under the protection of the brave pair. Extreme courage is needed in spades by the plucky lads, as the idyll is breached by endless gigantic-scale insects, formerly small mammals and reptiles. (The other natives have understandably fled the island in terror.)
Much nightmarish, repellent imagery abounds in this thrilling tale, which assaults the senses with loving close-ups of grand-scale beetles and giant bats, to name but two 'everyday' threats. Consistently impressive and beautifully rendered, this was a genuine high-point within the Dandy of 1969 to 1970.