The Four Marys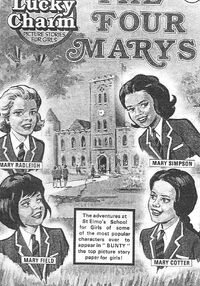 Current alias
The Four Marys
Aliases
Fieldy, Raddy, Cotty and Simpy
Base of operations
St Elmo's School for Girls
Characteristics
Status
Origin
History
Mary Field, Mary Radleigh and Mary Cotter were three rather posh third-formers who shared a dorm at St Elmo's School for Girls, along with their less well-to-do friend, scholarship girl Mary Simpson. They had various rather humdrum adventures there over a surprising number of years, consuming a lot of lemonade and jam sandwiches along the way in the best tradition of classic British children's stories. The Four Marys' arch-enemies were two fellow schoolgirls called Mabel Lentham and Veronica Laverley.

Powers and abilities
Abilities
Cross-country running.
Strength level
Four female human children who get regular PE lessons.

Paraphernalia
Equipment
School uniforms; stationery.
Transportation
Bicycles.
Weapons
None. They attended St Elmo's, not St Trinian's.

Notes
The Marys' introductory story was reprinted in the pages of Lucky Charm.

Trivia
The Marys are easily distinguishable by their hair: Fieldy has a bob, Cotty has plaits, Simpy has long hair and Raddy is blonde.
Links
Fan-Art Gallery: The Four Marys
Discover and Discuss