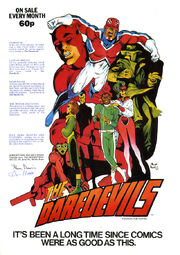 The Daredevils was a magazine published by Marvel UK from January-November 1983 (11 issues). Initially starring Captain Britain (continuing from Marvel Super-Heroes Monthly) backed up by US reprints of Spider-Man (continuing from the then recently cancelled Spider-Man Pocket Book) and Frank Miller's Daredevil, the magazine soon discarded all US content except the Daredevil strip, instead reprinting Alan Moore's stories starring the Special Executive from Doctor Who Monthly and other one-off strips such as The Crusader (originally published in Frantic) and Dourdevil (an all-new strip by Moore, spoofing Miller's Daredevil) as well as features, articles, interviews and Night Raven prose stories. Though short lived, it was possibly one of the finest comic magazines Marvel ever published. It was eventually merged with Mighty World of Marvel (Volume II). The image shown right is a promotional poster for the title, drawn by Alan Davis, which readers were asked to get their local newsagent to display. The title was edited by Bernie Jaye, who left Marvel UK upon its cancellation, and its designer was Floron Florenzo.
Cover Gallery
Posters Gallery
Several centrespread posters were given away free with The Daredevils, often drawn by Alan Davis or Mick Austin. Issue #3 had no poster.
Community content is available under
CC-BY-SA
unless otherwise noted.