Eggy and Rocky Balls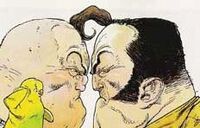 Real name
Egbert & Rockwell Balls
Current alias
Eggy and Rocky Balls
Characteristics
Status
Occupation
Professional superheroes
Origin
History
Rockwell and Egbert Balls (Rocky and Eggy to their friends, if they had any) were two brothers created by the Institute for Irresponsible Genetic Engineering. Lacking any other qualifications, they decided to set themselves up as superheroes for hire in order to make a more or less honest living, though neither was by nature particularly heroic.

Powers and abilities
Abilities
Superhuman resistance to pain and injury.
Strength level
Superhuman.

Notes
The Balls Brothers appeared in 2000 AD progs 1128 to 1131 (Heroes for Hire) and 1141 to 1147 (Balls to Biloxi). They have not been seen since, apart from a reprint of their first outing in issue #302 of the Judge Dredd Megazine and a cameo in the Tharg story in 2000 AD prog 1280.
Links
Discover and Discuss
Community content is available under
CC-BY-SA
unless otherwise noted.