Gatecrasher's Technet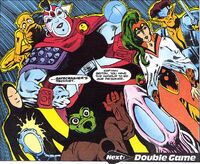 Current alias
Gatecrasher's Technet
Base of operations
Mobile
Characteristics
Status
Origin
History
The Technet are a group of time-, space- and dimension-hopping mercenaries led by the obese, blue-skinned woman known as Gatecrasher. They include Thug, Fascination (later of the Special Executive), Bodybag, Numbers, Ringtoss, Joyboy, the sword-swinging Ferro, China Doll, Waxworks, Hard Boiled Henwy and Yap. (Yap is their navigator, a small, cowardly creature who seemingly believes Gatecrasher is his mother and habitually rides on her shoulder.) Elmo, Pandora and Paradok were previously members. They have been at times both allies and enemies of Captain Britain (Brian Braddock) and Excalibur and have also clashed with the Fantastic Four.

Powers and abilities
Powers
Yap can track people down using their "electronic auras."
The late Elmo, a giant floating pink octopus with huge blank eyes, could temporarily turn off someone's psychic abilities.
Pandora, a sentient slime mould, could suck the life out of an entire city.

Paraphernalia
Equipment
Pandora lived in a metal sphere — her 'box'.
Transportation
Paradok, Yap and Fascination can travel between dimensions.
Weapons
Gatecrasher wears a wrist blaster.

Notes
The Technet were created, effectively, as replacements for Alan Moore's team, the Special Executive, after Moore left Marvel UK. They describe themselves as pre-dating the Special Executive.
The only significant member the two groups have in common is Fascination, who was designed by Alan Davis, although Thug is effectively identical to the Executive's deceased former member Legion and many of the other characters were previously unnamed background characters in the Executive.

Trivia
Gatecrasher almost certainly isn't Yap's biological mother (although who knows what goes on in the farthest reaches of time and space?), but once in a moment of crisis she made his day by referring to him as "child."
Links
Discover and Discuss