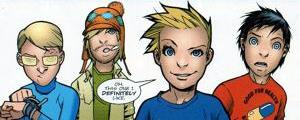 Survival Geeks
débuted as a three-part story in the
Tharg's 3rillers
series in
2000 AD #1824
to 1826 (March to April 2013). It was created by writers
Gordon Rennie
and
Emma Beeby
, artist
Neil Googe
and colourist
Gary Caldwell
.
The geeks in question are techno nerd Clive (AKA Maximum OverClive), slacker Rufus and comics and memorabilia nerd Simon. Along with Sam (a girl whom Simon has, against all the odds, picked up in a club and lured back to the house they share for a night of drunken passion), they find themselves cast adrift in the multiverse when Clive creates an interdimensional gateway which swallows the house. Their first stop is a parallel world threatened by a Dark Lord who is, in fact, an RPG designer called Kevin.
Readers liked the Survival Geeks so much that they were given their own series, in the course of which they acquired a pet Cthulhu called Howard.
The Geeks eventually returned to their home dimension after seeing a group of gender swapped alternate versions of themselves become the guardians of the cosmic balance.
Series
Steampunk'd in progs 1918 to 1923 (by Rennie, Beeby, Googe and Caldwell)
One-off appearance in 2015's Sci-Fi Special (ditto)
Geeks Fatales in progs 1973 to 1977. (ditto)
Lord of the Ringers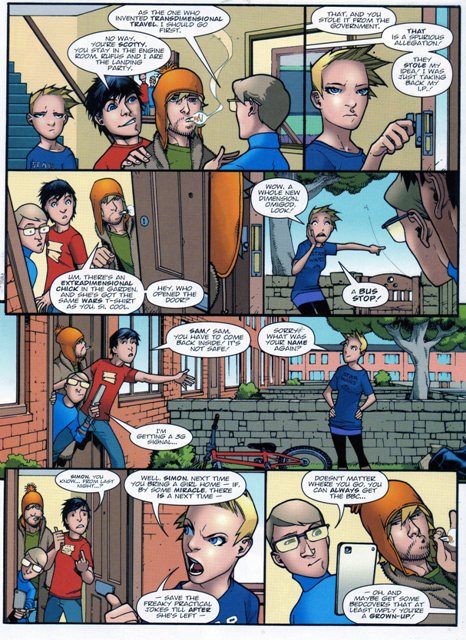 Community content is available under
CC-BY-SA
unless otherwise noted.