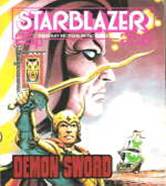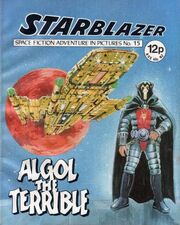 Starblazer - Space Fiction Adventure in Pictures
(or just
Starblazer
) was a pocket library sized title published monthly by
DC Thomson
of Dundee from April 1979 to January 1991, a total of 281 issues. Originally launched in response to the then current popularity of science fiction by DC Thomson editors Ian Chisholm and Jack Smith (Smith became the book's first editor, later succeeded by Bill Graham and Bill McLoughlin), the title was popular where it was actually sold but suffered from poor distribution, being scarce in parts of Scotland and almost unknown everywhere else. As a result, it is now highly collectible.
From issue #4 onwards, there were two issues per month, published on the same date. Most stories were self-contained but a number of recurring characters and stories emerged, including Starhawk, The Suicide Squad, Herne the Cosmic Outlaw, The Planet Tamer, Hadron Halley, Matt Tallis, Mikal R Kayn, Grok and Zero, Frank Carter, Skald, The Robot Kid and Cinnibar. Creators to have worked on the series include talented and well-respected figures such as Grant Morrison (one of his earliest jobs in the industry), Mike McMahon, John Smith, John Ridgway, Cam Kennedy and Colin MacNeil.
In 2018, DC Thomson began reprinting selected stories in a series of collected editions.
Community content is available under
CC-BY-SA
unless otherwise noted.