This page contains a list of all the comics included in Spider-Man Annual Vol 1: .
If you have found something that is not seen on this page, please add it to this list.
(This template will categorize articles that include it into Category:Comic Lists.)
---
Back to title selection : Comics S : Spider-Man Annual Vol 1
---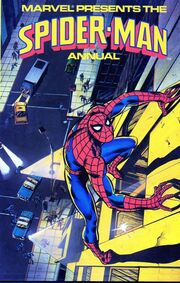 Spider-Man Annuals have been published in Britain since 1975 by a number of publishers. From 1975-1996 these were published either by or on behalf of Marvel UK (first by World Distributors and then by Grandreams), though after that company's dissolution the annuals were unconnected to any other publication until Panini took over publication in 2005. In both 2003 and 2005, two annuals were issued, the extra volumes tying in to the Spider-Man movies (as did the solitary 2008 annual). There were also three standalone publications: a Spider-Man and Hulk Omnibus in 1983, a Spider-Man & Friends Annual in 2009 and an Amazing Spider-Man 50th Anniversary Edition issued in 2012. The annuals have customarily included a mix of American Marvel Comics reprints, illustrated text stories (occasionally introducing new UK originated characters like Seth Youngblood and Bluebird), puzzles and features on Spider-Man himself.
Annual Gallery
See Also:

---
Back to title selection : Comics S : Spider-Man Annual Vol 1
---
Community content is available under
CC-BY-SA
unless otherwise noted.