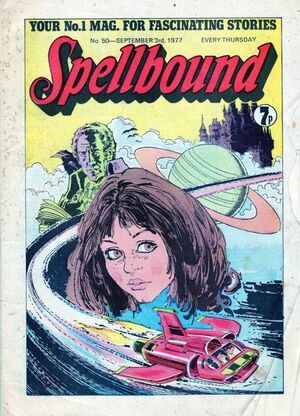 Spellbound
was a girls' comic published by
D.C. Thomson
in the mid 1970s. It ran for 69 issues, and focused on traditional girls' comic stories but with a supernatural or paranormal twist. Strips included:
I Don't Want to be a Lady (about a penniless orphan being forcibly raised in luxury by a wealthy family)
Marina (about a young gipsy girl who could see the future, who had been adopted as the mascot of a motor racing team)
The Mask of Menace (about a girl who discovers a sinister artifact in the geography room of her boarding school)
Supercats (about a quartet of spacefaring female superheroes)
Village of Fear (about dastardly goings-on in the imaginatively-named village of Fearton!)
There were also short stories, mostly centring on tragic romances, which were introduced by one Damian Darke and by Miss Hatherleigh, custodian of Cremond Castle. Upon cancellation, Spellbound was merged with Debbie.
Community content is available under
CC-BY-SA
unless otherwise noted.