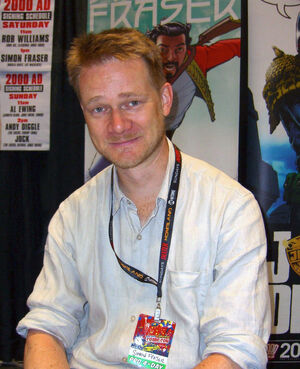 Simon Fraser, whose website is here, is a comics artist and colourist from Scotland. His early work includes Lux and Alby Sign On and Save the Universe and Roy of the Rovers (he drew Roy's farewell fling in 1995). His best-known and most popular work is his co-creation (with Robbie Morrison) of the long-running 2000 AD fan favourite series Nikolai Dante, a swashbuckling adventure about a Russian rogue armed with futuristic technology who is "too cool to kill." In 2002 Nikolai Dante won the 'Best Character' Eagle Award.
Fraser has also drawn Judge Dredd for 2000 AD, Shimura and Family for the Judge Dredd Megazine, and Doctor Who for Titan Comics, and created the webcomic Lilly Mackenzie and the Mines of Charybdis, which was later serialised in the Megazine (further online adventures of Lilly have yet to be seen in print). Robbie Morrison has described him as "possibly the best 'character acting artist' in the business, and more importantly a good friend."
Trivia
When Fraser drew a retelling of, or fresh take on, the Dredd and Rico story that was first drawn by Mike McMahon, a character in the story was wearing a t-shirt that read 'McMahon Copiers Ltd'.
Despite the fact that Fraser is Nikolai Dante's co-creator, a disgruntled reader wrote to 2000 AD prog 1222 to complain when art duties on the strip were transferred from John M. Burns to Fraser halfway through a story arc. According to the disappointed fan, "Simon Fraser is obviously an artist of talent, but his style is not suited to Dante. It has changed the whole context of the story from one of the horrors of war and the way people change as a result of it, into a Blackadder-type pastiche with tongue firmly stuck in cheek. The artwork is wholly inappropriate to the story being told." There's no pleasing some people...
Community content is available under
CC-BY-SA
unless otherwise noted.