Sex Warrior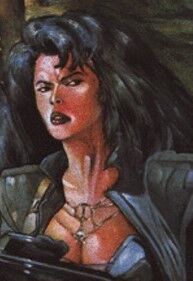 Current alias
Sex Warrior
Characteristics
Status
Origin
History
In the closing years of the 21st century, the secret of eternal life has been discovered, but the Chronos Hormone is only available to the very rich. The young rebels are locked in a war with the ruling Wrinklies, a war they cannot win... until Dakini the Sex Warrior arrives. Part angel, part devil, she uses her mysterious arts of Tantrology to unlock the sexual energies of the rebels and use them against their aged oppressors and their sinister creations, the Steroids...

Powers and abilities
Abilities
Uses sexual energy as a weapon. Apparently. Probably best not to ask, really.

Notes
Dakini the Sex Warrior first appeared in Toxic! and Apocalypse before turning up in her own limited series from America's Dark Horse Comics.
There is a Wikipedia article on the term 'dakini' here.

Trivia
Sex Warrior was the only strip in Toxic! with a female lead.
Links
Discover and Discuss
Community content is available under
CC-BY-SA
unless otherwise noted.