Satanus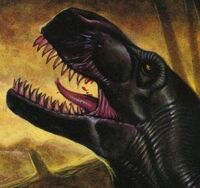 Aliases
Lord of the
Cursed Earth
; His Satanic Majesty; Satanus the Unchained; the Undefeated; the Dark One; Thing
Base of operations
Mobile
Characteristics
Unusual features
He's a dinosaur
Status
Origin
Place of birth
A laboratory
First appearance
Last appearance
History
Satanus is a massive Tyrannosaurus rex who features in various strips in 2000 AD and at one point had his own, Satanus Unchained!. His mother was Old One Eye, star of Flesh. She killed her monstrous son when he challenged her position as pack leader, but he was resurrected in the 22nd century by some incredibly short-sighted scientists thanks to the magic of cloning. The other three tyrannosaurs in his clutch died before hatching, but Satanus was made of sturdier stuff, and bit one of the scientists on the finger as soon as he broke free of his egg.
The young carnivore was kept in a theme park, drugged and beaten to ensure his obedience, where he made lots of money for his owners. When his brutal nature became too fierce for them to contain they tried to operate on his brain to make him docile, but instead he escaped into the Cursed Earth. There he was worshipped by the townspeople of Repentance, who sacrificed humans to him. Unfortunately, one of the humans they tried to sacrifice was Judge Dredd, who outwitted Satanus and set him on fire. The 'lord of the undead' only survived by crashing through the floor of a church into the crypt below and crawling out later to wander the Cursed Earth once again, wounded but defiant.
Some time later Satanus was caught by a travelling circus and made its reluctant star. He became immune to the sedatives they put in his food and started tearing humans apart (which is understandable, given the circumstances). The warlock Thoth, who wanted a pet, admired his ferocity and brought him forward in time to Earth's far future, when it was the dystopian hell-world of Termight. He is presumed to have eaten Sir Hargan, who killed Thoth's mother. Thoth also fed him with various people he plucked from different time zones, including a Roman centurion and a Judge from Mega-City One (whom Satanus took a long time to kill because he reminded him of Judge Dredd).
As well as giving him the ability to breathe fire, Thoth increased Satanus' size to monstrous proportions, but this had the unfortunate side-effect of giving him a corresponding increase in appetite. When Thoth confronted his father in the tubes below Termight the tyrannosaur went on a feeding frenzy, plucking bite-sized humans from nearby stalscrapers to eat and ignoring Thoth's commands to stop.
The Terminators responded by hitting Satanus with a barrage of lasers and lava cannon. Thoth returned Satanus to his usual size and escaped with him into the time wastes, where he released him back into the age of the tyrannosaurs. "It was the end of an era."

Powers and abilities
Powers
(When Thoth's pet) Breathing fire.
Abilities
Ripping, tearing, gouging, slashing, biting and savaging. You know, all the usual tyrannosaur stuff.
Strength level
Extremely high.
Weaknesses
Tiny brain.

Paraphernalia
Weapons
Teeth and claws.
Links
Discover and Discuss
Community content is available under
CC-BY-SA
unless otherwise noted.