Jurassic World: Dominion Dominates Fandom Wikis - The Loop
Play Sound
Sancho Panzer was a comic strip by Dan Abnett and Henry Flint that appeared in 2000 AD progs 1112 to 1123. The eponymous protagonist is a mercenary who drives a sentient tank called Mojo on a planet called Vainglory Five. In an interesting twist, 'Sancho' turns out to be actually just a guy called Val. He and his partner, Tool, discovered the tank in a swamp and found a journal inside telling of how the mantle of Sancho Panzer has been passed down from one individual to another for decades, prompting them to continue it. In the end, Val and Tool sacrificed themselves by blowing up Mojo (with them still on board) inside the belly of the mothership of an invading alien force. The explosion could be seen from orbit.
The series wasn't a great hit with readers. Abnett had high hopes for his creation: "I looked at what was popular with Sinister Dexter — extreme violence and witty dialogue, catchphrases galore and as many puns as you can fit in. Then I added heavy artillery action, something Henry did well. It should have been a blast, but wasn't popular. It's a shame because Sancho Panzer's got some terrific gags and wonderful art. I assume Sancho's failure was due entirely to the strength of the story, because the art was so good." (Source: Thrill-Power Overload by David Bishop.)
Sancho Panzer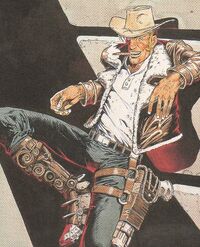 Current alias
Sancho Panzer
Characteristics
Origin
History
Val was just a guy who, along with his partner Tool, discovered a Tank controlled by an Artificial Intelligence called Mojo in a swamp on Vainglory V, along with a journal detailing how numerous individuals had piloted the tank in the guise of the legendary but entirely fictional folk hero "Sancho Panzer". Val took up the mantle, but ended up sacrifing himself, Tool and the tank in order to stop an alien invasion.

Paraphernalia
Transportation
Mojo (sentient tank)
Weapons
Mojo (sentient tank)
Links
Images that feature Sancho Panzer

Fan-Art Gallery: Sancho Panzer

Sancho Panzer quotations
Discover and Discuss