Ro-Jaws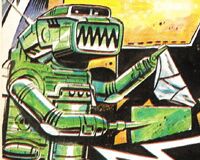 Real name
Fred 2-L, catalogue no. SM 1/G
Base of operations
Mobile
Characteristics
Unusual features
He's a robot
Status
Occupation
Former sewer droid; rescue worker; hotel porter; revolutionary
Origin
First appearance
Last appearance
History
Ro-Jaws is an anarchic, anti-authoritarian character in the 2000 AD strips Ro-Busters, Nemesis the Warlock and ABC Warriors. Originally named Federal Recycling & Environmental Droid 2-L, he was a municipal sewage robot decommissioned because of faulty language circuits. The foul-mouthed droid (in every sense; he ate rubbish) was sold to Howard Quartz's Ro-Busters organization and found a new career as a rescue worker. Ro-Jaws helped to save quite a few people's lives but very rarely received any thanks or recognition for his efforts. He wasn't paid either, because he was technically a piece of equipment.
Eventually Quartz decided to close the operation down and scrap the droids working for it. Alongside longtime partner Hammerstein, Ro-Jaws led most of his colleagues in a bid for freedom which saw them successfully flee Earth for a new life on the robot free world.
Centuries later, Ro-Jaws — now working as a hotel porter in the Gothic Empire — was thrown into the service of Nemesis the Warlock and became friends with his familiar Grobbendonk. Through Nemesis he was reunited with Hammerstein and his ABC Warriors. In recent years, he has been working at the Kollege of Khaos run by the ABC Warrior Deadlock.

Powers and abilities
Abilities
His jaws are incredibly strong, as is his stomach. He can operate underwater and see in infra-red.
Strength level
Probably superhuman.
Weaknesses
Doesn't have a hyper-intelligent tactical mind like a war robot, but compensates for this with courage, cheerful determination and a shrewd understanding of human/robot nature.

Paraphernalia
Equipment
Shovel; extendible arm; water jet thrusters.
Transportation
(Formerly) The Preying Mantis; The Satan Dart.
Weapons
His teeth; caustic foam (intended for unblocking drains) which he once used to fight off some alligators.

Notes
Outside his official continuity, Ro-Jaws also functioned as a 'host' to an intermittent series of short stories in 2000 AD entitled Ro-Jaws' Robo-Tales, all of which revolved around robots (Steve Dillon drew one of them, Jose Casanovas a few. Gary Rice was the most prolific writer on the series). This was effectively a companion series to Tharg's Future Shocks, and Ro-Jaws would frequently be seen to interact with Tharg.

Trivia
Ro-Jaws and his work partner Hammerstein are named after Rodgers and Hammerstein, two men from the USA who wrote some of the world's most famous musicals.
Ro-Jaws is a fan of Starsky and Hutch and The Sweeney, which he has seen on VHS (as he told Howard Quartz in Starlord #7 and #8).
As well as appearing in the Ro-Busters story in the 2000 AD 40th Anniversary Special, Ro-Jaws also had a cameo in the Nikolai Dante story (art by Simon Fraser, colours by Gary Caldwell). He was shown attending a party and eating Dante's discarded champagne glass.
Links
Discover and Discuss
Community content is available under
CC-BY-SA
unless otherwise noted.