Pongo Snodgrass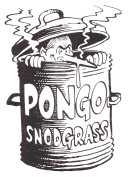 Real name
Pongo Snodgrass
Aliases
The Krazytown Sneak
Base of operations
Krazytown
Characteristics
Origin
History
Pongo Snodgrass began his career as the nemesis of The Krazy Gang, who he hated because they wouldn't let him join them...primarily because he was unashamedly vile and stank to high heaven! Pongo's foul odour and even fouler personality made him deeply unpopular with the residents of Krazytown but, predictably, very popular with the readers of Krazy Comic (where he was soon granted his own feature), and later in Whizzer and Chips annuals and editions of the Big Comic Annual. He was forever trying to play unpleasant pranks on people, but invariably came off worst in the end, usually ending up in an even more disgusting state than he'd started out in (though this in itself didn't really seem to bother him, since he was used to being in a disgusting state anyway).

Powers and abilities
Abilities
Annoying people
Strength level
Well, he
smells
strong...
Weaknesses
Doesn't think things through

Notes
Pongo's solo strip was originally titled Pongalongapongo, then Pongo Snodgrass, and finally just Pongo. He also guest starred in other characters' strips.
Links
Discover and Discuss
Community content is available under
CC-BY-SA
unless otherwise noted.