Percival Proudfoot Plugsley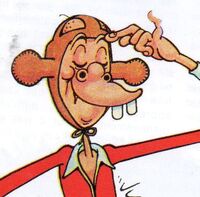 Real name
Percival Proudfoot Plugsley
Relatives
Elvis (younger brother)
Base of operations
Beanotown
Characteristics
Status
Education
Bash Street School
Origin
History
Percival Proudfoot Plugsley or Plug is a lanky, gangling and ugly character in The Bash Street Kids and the first student of the seven pupils in Bash Street School's Class IA. His trademark is his horrifying face, which consists of a large overbite, two buck teeth and wide nose.
Singled Out revealed his full name. Curiously, Plug's real name was once given as "Claude", a discrepancy which has never been explained; Plug could hardly be mistaken for anyone else, since his features are quite unique (not to say horrible. OK, in fact, I will say it: he looks horrible). Plug's extreme ugliness masks a curiously romantic soul, albeit a seriously deluded one as he actually believes himself to be staggeringly handsome. Then again, would one really want him to fully appreciate his own hideous appearance and spend his life in a state of permanent depression? He is frequently accompanied by his pet dog, Pug, who is almost as ugly as his master.
Alternative version
In addition to being a mainstay of the Bash Street Kids, Plug briefly starred in his own comic, entitled Plug (what else could it be called?). However, this version of Plug (who later transferred to the pages of Beezer after his own title was cancelled) appeared older (and more pompous) than the incarnation seen in the Beano, did not appear to be at school, and had seemingly traded his dog for an extremely ugly monkey called Chunkee. Was this a parallel universe version of Plug? We'll never know...

Powers and abilities
Abilities
Robust self-confidence; spreading chaos and destruction wherever he goes; sedulously ignoring all attempts to educate him.
Strength level
Juvenile human male.
Weaknesses
A sort of reverse body dysmorphia that makes him unable to recognise his own ugliness. (Insert essay on the subjective nature of beauty here.)

Paraphernalia
Transportation
The Bash Street Kids sometimes steal Teacher's car, which never ends well.
Links
Fan-Art Gallery: Plug (Character)

Plug (Character) quotations
Discover and Discuss