Pie-Face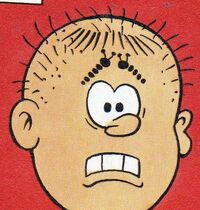 Base of operations
Beanotown
Characteristics
Unusual features
Eyebrows resemble caterpillars
Status
Origin
Origin
Normal human birth
History
Pie-face is one of Dennis the Menace's mates and is pretty dumb, which might explain why he hangs out with a juvenile delinquent. All he eats is pie, any type of pie: meat pies, apple pies and all the other pie in the world. He sometimes appears in the Beano, but not, so far, in the Channel 4 programme Freaky Eaters.

Powers and abilities
Abilities
Finding pies; eating pies.
Strength level
Pie-Face has the strength level appropriate to a sedentary juvenile human male with a pie-based diet.
Weaknesses
Pie.

Paraphernalia
Equipment
Cutlery.
Links
Discover and Discuss
Community content is available under
CC-BY-SA
unless otherwise noted.