The Strongman's Daughter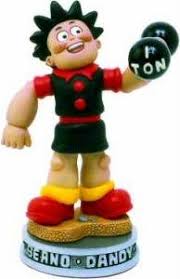 Current alias
The Strongman's Daughter
Characteristics
Origin
History
Pansy Potter the Strongman's Daughter is a long running star DC Thomson titles Beano (where she first appeared from 1938 onwards) and Sparky (where she appeared from 1965-1975). She returned to Beano from 1989-1993 with a more modern look.

Powers and abilities
Strength level
Superhuman
Weaknesses
Extremely clumsy and doesn't know her own strength.

Notes
Creators who worked on Pansy's strip include Hugh McNeill, Basil Blackaller, Sam Fair, James Clark, Gordon Bell, Charles Grigg, John Geering, Nigel Parkinson and Kev F. Sutherland.

Trivia
From 1949-1953, Pansy's strip was retitled Pansy Potter in Wonderland, and she lived in a rather strange world populated by fairytale characters.
Links
Discover and Discuss