P14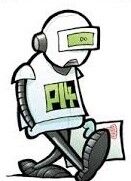 Base of operations
Nerve Centre
Characteristics
Unusual features
He's a droid
Status
Occupation
Page-numbering droid
Origin
History
P14 is the central character in the 2000 AD strip Droid Life. He is a droid who works in the 2000 AD Nerve Centre, though admittedly in the basement. His sole job is to write the number 14 on the fourteenth page of each prog, though this is totally pointless as 2000 AD has no page numbers so his work is immediately erased by his colleague Ray. P14 dreams of being a writer and regularly submits scripts to Tharg but has never had one accepted, which he regularly complains about to his best friend Crumbs (also a droid). His failure is possibly due in part to the fact that, despite having worked on the comic for years, he has never actually read it and so tends to get rather confused as to what the strips are actually all about.
He once slept with a photocopier at an office Christmas party.

Powers and abilities
Abilities
Writing "P14" on the fourteenth page.
Weaknesses
Writing, really.

Trivia
P14 had a cameo in 2000 AD prog 2000 (published September 2016) which was drawn by Boo Cook.
Links
Discover and Discuss
Community content is available under
CC-BY-SA
unless otherwise noted.