Oor Wullie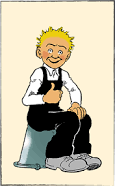 Real name
William MacCallum
Relatives
Pa ("Dave") (father); Ma (mother); unnamed younger brother
Characteristics
Origin
First appearance
The Sunday Post (1936)
History
Oor Wullie is a precocious little kid who carries a bucket which he frequently uses as a seat. He lives in a Scottish town called Auchenshoogle, which he spends his days roaming with his gang, Fat Bob, Wee Eck, Soapy Soutar and Primrose Paterson. He frequently clashes with local policeman PC Joe Murdoch.

Powers and abilities
Weaknesses
Tendency not to think things through.

Paraphernalia
Equipment
Bucket

Notes
Somewhat inexplicably, Wullie appeared in the masthead of the Topper when it was first published, though he did not feature in a strip in the comic.

Trivia
Wullie's age seems to have fluctuated over the years. At times, he's depicted as five or six years old, at other times about eight, and sometimes around ten.
Links
Discover and Discuss
Community content is available under
CC-BY-SA
unless otherwise noted.