Oeahoo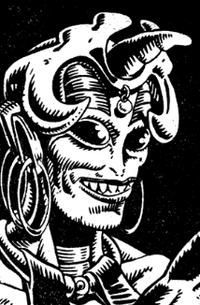 Affiliation
Myraakothka
(boss);
Nest
(brief slave); numerous other slaves in unspeakable torture
Characteristics
Unusual features
Is an alien
Status
Occupation
Dominatrix/scientist
Origin
History
Oeahoo is a character from the 2000 AD strip Sláine. She was a Cyth dominatrix who worshipped the worm-god Crom-Cruach and worked for General Myraakothka. She would torture humans for 'science', although this science meant nothing more then putting people through extreme torture.
After being captured by the Guledig, Nest was sent to be experimented upon by Oeahoo. Upon arrival, Oeahoo tied Nest's hands and put a leash around her neck, humiliating the unfortunate priestess. Luckily for Nest however, she used a magical artefact given to her by Myrddin to slowly turn Oeahoo into an ally, working just in time for Oeahoo to untie her captive and help kill Myraakothka on arrival.
Afterwards Sláine and co. arrived to save Nest, only to find her and Oeahoo disposing of Myraakothka's body. The group decided to kill Oeahoo before she reverted to her evil ways. Oeahoo attempted to plead to Nest only for it to fall on deaf ears. Nevertheless, she convinced the rest of the group (including Calgacus, Mogrooth, Tlachtga and Ukko) to spare her life so that she could guide them through the tomb of the the dark god Grimnismal.
Oeahoo only proved helpful to a certain extent: she inadvertently caused the death of the Celt warrior Calgacus and accidentally led the team to a gang of shadow monsters. The group also encountered one of Oeahoo's past slaves on the way, a foreign girl named Giya who screamed when she saw her past tormentor. While those events were honest mistakes, and Oeahoo only wished to help, Sláine soon tired of her and threw her at a group of shadow monsters. The demons quickly set upon the young Cyth girl and slowly burnt away her skin.

Powers and abilities
Abilities
Grade-A sadist.
Strength level
Cythrons are probably stronger than humans.
Weaknesses
Can't withstand the magic of Myrddin's ring.

Paraphernalia
Equipment
Leash; rope; lots of Cyth jewellery.
Links
Discover and Discuss
Community content is available under
CC-BY-SA
unless otherwise noted.