ORAC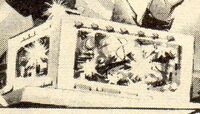 Base of operations
Mobile
Characteristics
Unusual features
He's a computer
Status
Origin
History
Created by the brilliant but reclusive scientist named Ensor and programmed by him with an acerbic, pompous personality based on his own, ORAC was an Artificial Intelligence, the ultimate computer, able to enter and influence any other system devised by humanity. Following the death of his creator, ORAC fell into the hands of the freedom fighters Blake's 7, who used him in their war with the Terran Federation. ORAC, however, was essentially uninterested in their crusade, or indeed in anything other than pure research. He tended to look down on most of his nominal 'owners', though he occasionally displayed a grudging respect for Avon who, if he wasn't exactly his intellectual equal, was at least someone he could have a reasonable conversation with.
ORAC's final fate is unknown, as he was not present when the rest of the seven apparently died on Gauda Prime.

Powers and abilities
Abilities
Myriad intellectual skills.
Strength level
Depends whether you mean intellectual or physical. He's a genius, but he's not going to be winning any boxing matches.
Weaknesses
He's an immobile box of flashing lights.

Paraphernalia
Transportation
Spaceship.

Notes
ORAC originated in the BBC TV series Blake's 7. He featured in both Blake's 7: A Marvel Monthly, published by Marvel UK, and the last two Blake's 7 Annuals published by World Distributors.
Links
Discover and Discuss
Community content is available under
CC-BY-SA
unless otherwise noted.