Niamh MacRoth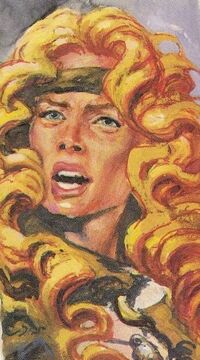 Affiliation
Ally of Sláine
Characteristics
Status
Origin
Origin
Normal human birth
First appearance
Last appearance
History
Niamh is a character from the 2000 AD strip Sláine who was the wife of the warrior king Sláine MacRoth and the mother of his son, Kai. When she was a girl she was destined to be the wife of Grudnew, the king of Sláine's tribe, the Sessair. He kept her in a hut in the forest with guards at the front and a fast-flowing river at the back. No other man was allowed to see her.
The sixteen-year-old Sláine forded the river, carrying a huge boulder so he wouldn't be dragged away by the current, and crept into her hut. Niamh liked him and they had several liaisons before Sláine was discovered and sentenced to death. Sláine escaped, and returned years later to claim his beloved as his bride. Niamh, meanwhile, had had to give birth to their son, Kai, without any assistance, and raise him all on her own, a prisoner in her hut until the king died. When she first re-encountered Sláine she told him to get lost, but she later relented.
Niamh was fridged raped and murdered by the evil Moloch, an agent of the demonic Fomorians. She is known to have been reincarnated in various different time periods, though always with no memory of her original life (in at least one life, she was reincarnated as a male, Simon DeMontford). The time-travelling Sláine encountered a number of his wife's later incarnations (including a nun, Sister Marian, who had formerly been Robin Hood's Maid Marian) before returning to his own time.

Powers and abilities
Abilities
Armed combat; sewing.
Strength level
Human female who gets regular exercise.

Paraphernalia
Weapons
Niamh was highly proficient with the weaponry of her time period.

Notes
Niamh was extremely strong-willed and was the only person Sláine may actually have been afraid of.

Trivia
Niamh's name means 'Heaven' (according to Ukko).
Links
Discover and Discuss
Community content is available under
CC-BY-SA
unless otherwise noted.