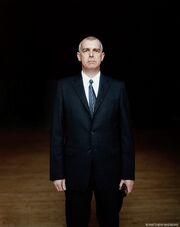 Neil Francis Tennant was born in 1954 in North Shields near Newcastle-Upon-Tyne, the son of William and Sheila Tennant and the brother of Susan, Simon and Philip Tennant. He was educated first at St Cuthbert's Grammar school and then at the North London Polytechnic, where he obtained a degree in History. From 1975-1977, Tennant was employed as the London Editor of
Marvel UK
; succeeding
Matt Softley
, his duties including altering American spellings to British ones and changing exclusively American cultural references to ones considered to be more familiar to British readers for the reprint weeklies, as well as indicating where artwork needed to be modified for the (at the time) generally younger British audience, in order to conceal partial (usually female) nudity on artwork taken from the US black & white magazines, which were originally intended for an older readership.
Having failed to distinguish himself in the comics industry, in 1977 Tennant left it (he was succeeded at Marvel by Nick Laing) and slipped into comparative obscurity: reputedly, he ended up working in the 'music business' as part of a popular music duo called 'the Pet Shop Boys', which has presumably provided him with some sort of living ever since, however meagre.
They have a website, apparently: http://www.petshopboys.co.uk
Community content is available under
CC-BY-SA
unless otherwise noted.