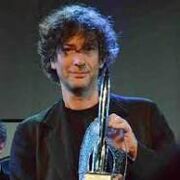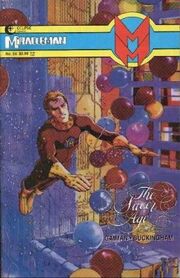 Neil Richard MacKinnon Gaiman (the 'MacKinnon' part was adopted as it was the middle name of his second wife, songwriter Amanda Palmer) is an award-winning British comics author, novelist and screenwriter from East Grinstead who first broke into comics writing four installments of
Tharg's Future Shocks
 for
2000 AD
(one of which was illustrated by
John Hicklenton
) and later a story for a
Revolver
Special. He succeeded his friend
Alan Moore
as writer of Moore's revamped
Marvelman
series,
Miracleman
, by then being published by America's Eclipse Comics. His longtime friend and collaborator
Mark Buckingham
was the artist.
Neil has gone on to a successful career in American comics working for various publishers including DC Comics and Marvel Comics, writing series and graphic novels such as Black Orchid, The Books of Magic, Violent Cases, Signal to Noise, The Tragical Comedy of Mr Punch, the Eternals, Marvel: 1602, Angela and, most notably, the epic fantasy saga Sandman (in which he created the fan favourite character of Death, who went on to feature in her own limited series). 
His novels include Good Omens (with Sir Terry Pratchett), Stardust, American Gods, its sequel Anansi Boys, Coraline, The Graveyard Book and The Ocean at the End of the Lane. Neil wrote the TV series Neverwhere and its novelisation, and has written two episodes of the modern version of Doctor Who ('The Doctor's Wife' and 'Nightmare in Silver'.) He has also written audio plays, and several of his novels and comics have been optioned for film treatment. Neil writes poetry, gives public readings of his work, and is a close friend of singer Tori Amos, a Sandman fan who has repeatedly included references to Gaiman in her songs. His blog can be found here.
He no longer lives in East Grinstead.