Myrddin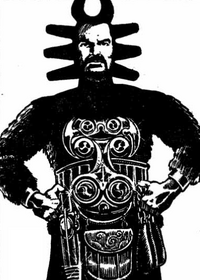 Characteristics
Unusual features
Funny-looking hat
Status
Origin
Origin
Half human, half Cythron
History
Myrddin is a character from the 2000 AD strip Sláine. He was a half-human, half-Cythron magician who protected humanity against the Cythrons led by his diabolical father, the Guledig.
After the Myrddin learnt of his father's plan to resurrect the nine-dimensional dark god Grimnismal, he led a squad consisting of Sláine, Ukko, Nest, Murdach, Mogrooth, Tlachtga, Oeahoo, Calgacus and Giya through the dark god's tomb, most of them dying along the way.
Unfortunately Grimnismal had already awoken before the adventurers' arrival. Sláine and Murdach fought the god and successfully cut off its feeding tubes as Myrddin had instructed. The dark god quickly went insane before killing itself. Myrddin escaped along with the other survivors, before returning to his duty protecting the earth from the Cythrons.

Powers and abilities
Abilities
Numerous magical powers and a expansive knowledge of the Cythrons and their creatures.
Weaknesses
Occasionally succumbs to attacks of Cythron-style arrogance and proclaims his superiority over 'mere' humans.

Paraphernalia
Equipment
Magical control panel that can view any moment in time and space.
Transportation
Links
Discover and Discuss
Community content is available under
CC-BY-SA
unless otherwise noted.