Motormouth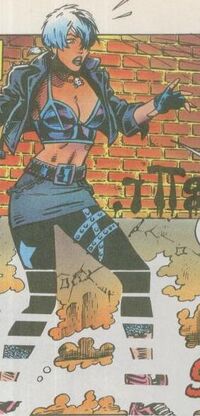 Characteristics
Status
Origin
First appearance
Motormouth #1
History
Harley Davis, nicknamed Motormouth because of her incredibly foul language, was a young orphan living on the streets of London, stealing and scavenging to live, when she was chosen by a man named Laarson, an agent of the sinister Mys-Tech Corporation, to be a test subject for the MOPED (Mind Operated PErsonal Dematerialisation) technology he had developed, which could enable people to move between alternate universes. The MOPED unit was cunningly disguised as a pair of trainers. Harley used these hi-tech seven-league-boots to escape with Laarson's help when Mys-Tech sent other agents to seize the technology and execute Laarson.
Arriving in an alternate future, Harley obtained a Soni-Muta 500, a microchip implant which enabled her to mentally tune in to radio stations, and later gave her a powerful 'sonic scream'. Captured by and then escaping from Mys-Tech, Harley found herself partnered with the former Mys-Tech agent sent to bring her in, the super strong but mentally backward man-child called Killpower. When Harley was shot in the throat, the idiot savant Killpower used his instinctive understanding of advanced technology to cure her by integrating the technology of the Soni-Muta and the MOPED unit into her body.
Motormouth and Killpower later joined numerous other superheroes in fighting Mys-Tech, and have remained active since the Corporation's apparent destruction.

Powers and abilities
Powers
Sonic scream.
Abilities
Transdimensional travel.

Notes
Though created by Marvel UK, Motormouth has been incorporated into the mainstream (American) Marvel Comics Universe, and has encountered the Hulk (Bruce Banner), amongst other heroes. She has also worked with Captain Britain and MI-13.

Trivia
Motormouth's solo series was also published concurrently as a regular feature in the anthology title Overkill.
Links
Discover and Discuss
Community content is available under
CC-BY-SA
unless otherwise noted.