Mother Earth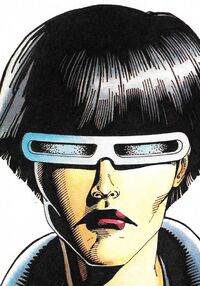 Real name
Rafaella Van Rijn
Current alias
Mother Earth
Relatives
Husband (deceased); son (deceased)
Base of operations
Mobile
Characteristics
Status
Occupation
Time traveller
Origin
Origin
Normal Homo superior birth
History
The protagonist of the 2000 AD strip Mother Earth is a super-powered time-traveller from 1955 (her original timeline's 1955 was a lot more advanced) who wants to use her godlike powers to murder individuals who her computer has identified as being either directly or indirectly responsible for the widespread pollution of the planet by her time period.
Mother Earth isn't human. She is a member of a species called Homo superior, whose ancestors she killed so that Homo sapiens would inherit the planet instead. (Never mind the ensuing paradox, i.e. if she murdered her own ancestors then why is she still here?) Unfortunately, Homo sapiens proves just as prone to planet-wide pollution as her species had been, so after her 43rd attempt at saving the planet by altering the timeline she decides to enlist some help. So she kidnaps three teenagers: Jo (a girl), Kris (a girl) and Dex (a boy).

Powers and abilities
Strength level
Homo superior female who gets regular exercise.
Weaknesses
No social skills.

Paraphernalia
Equipment
Techno-mystical assault mechanism tuned to her body's energy nodes which goes FRAKOOOM! (see gallery).
Transportation
Self-sufficient time probe with cryo-capsule and sentient computer.
Weapons
Great big laser canons.

Notes
The series ran from 2000 AD prog 867 to 872.

Trivia
In the first episode Alan Moore's early 2000 AD spoof hero 'Rocket Redglare' is mentioned.
Links
Discover and Discuss
Community content is available under
CC-BY-SA
unless otherwise noted.