Morrigun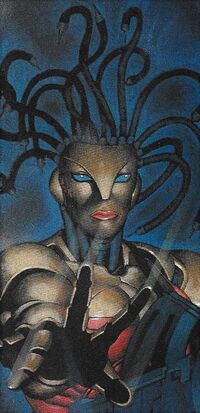 Base of operations
Kollege of Khaos
Characteristics
Unusual features
She's a robot
Status
Occupation
Waitress; later Warrior
Origin
History
Morrigun, a character from the 2000 AD strip ABC Warriors, was the only female robot member the ABC Warriors have ever had (Terri was a human who thought she was a robot). She worked as a waitress on Hekate until she was recruited into the ABC Warriors, principally for her skill at the martial arts. Serving a lengthy stint with them, Morrigun adopted the brutish Warrior Mongrol as a pet. Unfortunately, Morrigun was killed on Mars when a tank ran over her, crushing her cerebral cortex beyond hope of repair.

Powers and abilities
Abilities
Armed and unarmed combat.
Strength level
Superhuman.
Weaknesses
Tanks.

Paraphernalia
Transportation
Various spaceships.
Weapons
Large gun.
Links
Discover and Discuss