Morbius the Living Vampire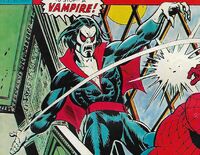 Real name
Dr. Michael Morbius
Current alias
Morbius the Living Vampire
Base of operations
Mobile
Characteristics
Unusual features
Chalk-white skin, red eyes, fangs, and retractable claws
Status
Occupation
Nobel Prize winning Biochemist, criminal scientist
Education
Degree in biochemistry, specializing in blood disease
Origin
Origin
Living Vampires (human mutate)
History
Dr. Michael Morbius was attempting to cure himself of a rare blood disease when he accidentally turned himself into a living vampire instead. Happens all the time! He has since veered back and forth from villain to anti-hero, often finding himself at odds with Spider-Man (Peter Parker).

Powers and abilities
Powers
Vampire powers.
Strength level
Strong.
Weaknesses
Despite being a vampire, Morbius is not adversely affected by the sun or garlic.

Paraphernalia
Transportation
He doesn't need it! He can fly!
Weapons
He doesn't need them either! He's got teeth!

Notes
Morbius first appeared in the Spider-Man weekly comics as a foe, but became an ally decades later.
Because he is half-vampire, it earnt him a place in the Castle of Horror comic by the Portman Distribution. It was short-lived, however, when Marvel stopped the deal because of a complaint from Marvel UK.

Trivia
Most of Morbius's appearances in British comics were reprints of American material.
Links
Discover and Discuss
Community content is available under
CC-BY-SA
unless otherwise noted.