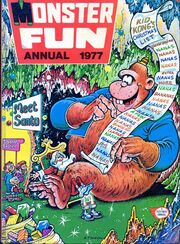 Monster Fun
was a primarily horror/monster themed humour comic published by
Fleetway
from 14th June 1975 to 29th September 1976 (there was also a
Monster Fun
 special in 1976, and
Monster Fun
 annuals continued to be published after the weekly title's cancellation).
Strips featured in Monster Fun included Kid Kong (by Robert Nixon); Dough Nut and Rusty; Brainy and His Monster Maker; X-Ray Specs; The Robot Maker; Frankie Stein (a revival of a strip originally published by Odhams); Art's Gallery; The Little Monsters; Draculass; Stoneage Brit, Ancient Nit; Tom Thumbscrew; Freaky Farm; Sam's Spook; Mummy's Boy; Teddy Scare; Terror TV; Ken Reid's Martha's Monster Make-up; Gums; Terry and the 'Dactyl; Creature Teacher; Major Jump; Crafty Cat; Badtime Bedtime Stories and Survive All.
The comic was eventually merged with Buster, and several of the former Monster Fun features (Kid Kong, Gums, Frankie Stein, Mummy's Boy, X-Ray Specs and Draculass among them) became longtime mainstays of that title.
Community content is available under
CC-BY-SA
unless otherwise noted.