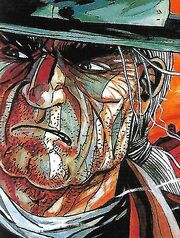 "BRINGING FAITH THROUGH FIREPOWER!
The Cursed Earth is a radiation-wasted landscape spanning most of what was once known as America. Only the toughest of the tough, the meanest of the mean, can survive there.
Now, one man has come to bring law to this unlawful place. Rumour has it that Preacher Cain was once a Judge who had succumbed to religion and madness in equal measure. Now he roams the godless territories – the physical embodiment of the angel of death himself – spreading the word of God and punishing the wicked.
It's a full-time job!"
Missionary Man was a series created by Gordon Rennie and Frank Quitely, and illustrated by a range of artists including Simon Davis, Henry Flint, Trevor Hairsine, Colin MacNeil, Garry Marshall, Dean Ormston, Wayne Reynolds, John Ridgway and Alex Ronald. It first appeared in the Judge Dredd Megazine before transferring to 2000 AD, returning to the Megazine for its conclusion in the early noughties. Later it was reprinted in three volumes as part of Judge Dredd: The Mega Collection.
Community content is available under
CC-BY-SA
unless otherwise noted.