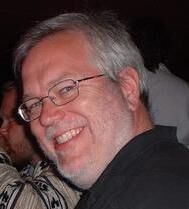 Mike Collins, who has a DeviantArt page here and a Myspace page here, is a British comics artist and writer who was born in West Bromwich in 1961. After training as a lawyer he defected to the world of comics, in particular 2000 AD for which he drew episodes of Tharg's Future Shocks, Sinister Dexter, Judge Dredd, Sláine, Rogue Trooper and American Gothic (which he co-created). Collin also drew 'Tharg the Mighty in The Secret of Prog 1977', which appeared in prog 1977, and a one-page humour strip in the 2000 AD 40th Anniversary Special.
Earlier in his career Collins worked for Marvel UK on Spider-Man, Spider-Man and Zoids, Transformers, Captain Britain, The Real Ghostbusters, Thundercats, Action Force and Doctor Who. As a writer, he created the characters Assassin-8 and Thunderclap in Spider-Man, and wrote the Cherubim and two instalments of Captain Britain. For three years, he was the principal artist on the Judge Dredd Newspaper Strip. Since the late 1980s, he has worked extensively in American comics, primarily for DC (though he was also, notably, the first artist to draw Gambit of the X-Men for Marvel). He has drawn numerous TV and movie tie-in comics, including Star Trek and Babylon 5.
Collins currently does illustrations and comic strips for the Doctor Who Magazine, has illustrated two graphic novels about Daleks, has contributed art to the Harry Potter trading card game, and wrote and designed the first ever Welsh language graphic novel.
Community content is available under
CC-BY-SA
unless otherwise noted.