Max Quirxx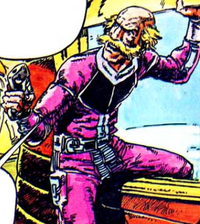 Characteristics
Status
Occupation
Criminal terrorist
Origin
History
Max Quirxx is a character from the Starlord strip Strontium Dog. After he blew up an alien city on Bario-3 after not being paid a ransom, Strontium Dogs Johnny Alpha and Wulf Sternhammer were sent to find him. They eventually tracked him down on Caytor (administration planet of the Dorian nebula) after getting info from two of his men. Quirxx fled to the Department of Education and Conditioning, taking a woman and her child hostage. Alpha quickly defused the situation however, throwing a time bomb which left Quirxx stranded in space. He instantly succumbed to the deadly vacuum.

Powers and abilities
Abilities
Being a nasty piece of work.
Strength level
Strong moustache game.

Paraphernalia
Transportation
Spaceships.
Weapons
Pistol.

Notes
Quirxx was the first named villain encountered in Strontium Dog.
Links
Fan-Art Gallery: Max Quirxx
Discover and Discuss