Jurassic World: Dominion Dominates Fandom Wikis - The Loop
Play Sound
Max Normal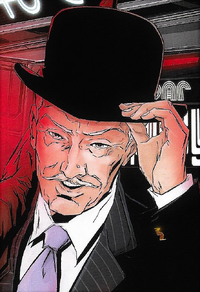 Aliases
The Pinstripe Freak
Characteristics
Status
Occupation
Shuggy hustler; former informant
Origin
Origin
Normal human birth
History
Max Normal is a character from the 2000 AD strip Judge Dredd]. Known as 'the Pinstripe Freak', he was once Judge Dredd's most reliable informant, passing on information gathered in his 'day job' playing shuggy (a 22nd century version of billiards) for money. Eccentric even by the standards of Mega-City One, Max preferred to distance himself as much as possible from his own era (aside from habitually using bizarre futuristic slang terms) by dressing as a mid-20th century businessman, complete with bowler hat and umbrella.
His refusal to drink anything but Shampagne (real champagne is illegal in Mega-City One) protected him from the Block Mania virus introduced into the city's water supply by Orlok in 2104. He ceased working for Dredd after he was used as a hostage by criminals attempting to kill the Judge, but was later drawn back into Dredd's life under similar circumstances.
He has since become involved with the schemes of former Judge turned criminal Lenny Zero, whose associate Shuggy Bear runs a shuggy hall which Max frequents.

Powers and abilities
Abilities
Playing shuggy; being lucky (he's spent his life associating with Judges and violent criminals, in the most dangerous city on the planet, but has reached old age unscathed).
Strength level
Human flâneur.
Weaknesses
Vanity.

Paraphernalia
Equipment
Umbrella; golden cuff-links in the shape of his initials.
Weapons
His charm.

Notes
Max has at times had his own recurring series in the Judge Dredd Annuals (1981-84 and 1987) and also appeared in Big Finish's series of Judge Dredd audio adventures, voiced by Toby Longworth.

Trivia
Max was apparently the inspiration for the bowler-hatted businessman who appeared in Russell T Davies' Doctor Who episode 'Gridlock.'
Links
Discover and Discuss